The studio
Creativity, communication and online strategy
Graficadora is a creative studio based in Oviedo (Asturias), which provides its services 100% online.
The studio
Our headquarters are in Asturias, but we live on the net.
The studio
The world, the Internet and advertising are changing and we don't want to be left behind.
We want to feel part of that change, contributing our grain of sand in the digital world,facilitating the management of your business and achieving the marketing objectives that we set ourselves.
Luckily, we do what we like, and we like what we do.
We believe in positive energy, believing in things and doing, doing, doing to get them. And grow, keep growing.
We are never satisfied with what we know. We spend a lot of time training and informing ourselves to always keep up with the latest trends.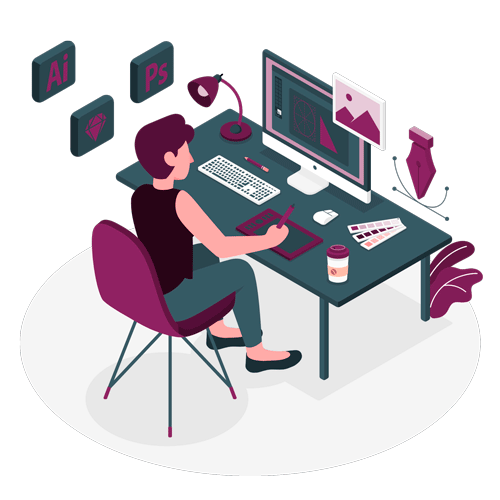 Where are we
In the cloud. Graficadora is a creative studio 100% online. Our headquarters are in Asturias, Spain.
We meet by phone, online and burn messaging services like WhatsApp. Distance does not resist.
We offer service throughout Spain and Europe.
That's how we work
By your side. We work together with our clients to improve theircommunication, the management of their business or the perception that customers have of their brand.
We offer custom-made solutions to improve or maintain the presence of our customers both online and offline.
Our services range from the creation of websites and online stores,through the creation of corporate identities or promotional material,to the design of digital strategies or advertising campaigns.
Creativity, Communication & Strategy
We have ten years of experience in graphic design, web development and online marketing..
If you are starting your business or want to give it a change of look, contact our studio and we will offer you the best price for your project.

¿Necesitas más información?
¿Quieres montar tu tienda online y no sabes por donde empezar? ¿Necesitas renovar la imagen de tu negocio?
Asesoramiento gratuito. 
Personalized care
We know how to listen and translate your ideas.
Agility in execution
Speed and efficiency.
Multidisciplinary experience
In visual graphics and applications development.
Original creativity
Fully customized designs
Functional and practical
We like order and functionality.
The best quality
We strive to deliver the best quality products.